HIGH ACHIEVER PROGRAM GUARANTEE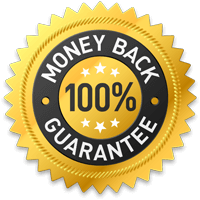 Risk Free 4x Guarantee. The Fortune Institute guarantees you a 4x return on your program investment over 12 months or your money back.
We believe your return will be more – however you can expect to get at least your money back over the consecutive 12 months in the High Achiever Program.
Few, if any companies will offer you this unique money back guarantee. We do this because High Achiever works so we guarantee your business grows or the program costs you nothing.
No risk and no huge outlay. You only pay a monthly membership fee so there is no big lump sum upfront and within a few months your progressive investment is already rapid. Low investment upfront, low risk with huge upside to the growth and success of your business.
In order to take advantage of this guarantee today, you need to join by completing the application attached once approved, you need to commit and participate fully in the program for at least 12 months. What does this mean? It means you need to do your part, learn, work hard and implement the changes that need to be made in your business. Here's what will be expected of you.
To qualify for our 100% money back guarantee a High Achiever client must be:
Complete at least 12 consecutive months in the High Achiever 24 month program
Attend all quarterly planning sessions and the retreats
Attend all quarterly accountability coaching consults calls
Submit quarterly Business Activity and Profit and Loss Statements
Implement 80% of projects from your action plans each quarter
TESTIMONIALS
Client Results
Larry Wainstein – Signpac – Sign Manufacture
Through our buyer motivation strategy his conversion rate went from less than 21% to over 80% consistently, 400% increase to his bottomline.
Richard Jefferies – Lion Financial – Mortgage Broker
Through our staffing and delegation system he has been able to focus 80% of his time now on generating revenue. Sales went form $3-4M to $7-8m per year.
Asako Nakamura – Mura Boutique – Online Retailer
We revamped her whole business model, focusing intently on online retail and grew turnover by almost 900% in less than 24 months. Revenue up from $31K per month to over $750k per month.
Pauline Nguyen – Red Lantern – Restaurateur
Grew client databae from less than 5,000 to over 45,000 in 12 months. She changed her entire marketing focus to here email campaigns and newsletters that now get over 45% open rates week in week out and a waiting list to get a table.
Logn Merrick and Graham Mckorkill – Buzinga Apps – Technolgy Developer
With our guidance grew from a team of 4 to over 60. Voted in BRW's Fast Starters list in 2015 and growing steadily and profitably every quarter through our aligned system based on productivity, systems and marketing.