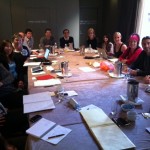 I've just spent the last 3 days of business coaching a room full of entrepreneurs.
They were all from different industries. They were all at different stages of their development. But in all of our discussions, 5 points kept coming up.
I thought you might like to know what those are.
1. NO MATTER WHAT BUSINESS YOU ARE IN, YOU ARE REALLY JUST IN THE MARKETING BUSINESS.
Unless you can develop methods of cost efficiently bringing in clients, then the future of your business is always in danger. The most successful businesses are not necessarily those that offer the best product, but rather those that are best at business marketing their wares.
2. A POSITIVE MINDSET IS ONE OF THE PRIMARY FACTORS IN BUSINESS SUCCESS.
Business can be so hard; obstacles can be so plentiful, that only those who consistently work on their positivity will stay the course and emerge victorious. This work must be done daily, to strengthen our mental fortitude for the upcoming bad times. Resiliency is crucial for entrepreneurial success.
3. THERE IS NOTHING EXPENSIVE OR INEXPENSIVE.
Whether your product is good value or bad value is purely a matter of perception. That perception can be engineered, and should be, to maximize the prices you can successfully charge. If you feel you can't charge more, it's generally because you haven't packaged your services well, not because the market won't pay a higher price.
4. MASSIVE REVENUE RISES ARE VERY POSSIBLE.
So many business owners hobble their chances of over success because they aim too low. Looking for a 10% rise in revenue this year is gutless thinking that too often becomes a self fulfilling prophecy. Our best business coaching weekend was full of entrepreneurs that had achieved enormous growth in the last year. One of the main reasons why was that they had the courage to aim for it.
5. HAVING ONLY ONE WAY TO OBTAIN CUSTOMERS IS SUICIDE.
Time and time again I have seen companies that got their clients only one way – whether by Google Ads, referral, radio advertising or search engine marketing – get hammered when that one way faltered. You simply must have multiple methods of bringing in customers to ensure sustainable revenue over the long term. It's not easy finding alternative marketing avenues that offer returns as good as your current one, but it's vital work.
Sure we discussed a hundred other ideas, but these five often dominated the conversations among the business owners.
Have a think about them. Question them, try them on for size.
And if they resonate with you, start changing your business to address them.