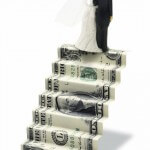 Most people haven't, yet Ray Dalio made over $3 billion dollars last year.
He has run his company, a hedge fund known as Bridgewater Associates, for the last 36 years, building it from a tiny operation in an apartment to America's largest hedge fund.
Like all billionaires, he has some fascinating viewpoints and distinctions.
As a business coaching mentor, I've been studying Ray lately and today I want to explore one of his most interesting concepts.
Consequence levels.
Basically the thinking goes like this:
The average business person only looks at the consequences of an event one level down.
The highly effective person however takes the time to think more carefully and evaluates the deeper meaning of the event.
It's often only when you look at consequences at levels two and three that you can work out your optimum tactic in response.
Let me give you an example that happened to me just this week.
My fiancé and I are organising our wedding day (actually she's doing 90% of the work).
After weeks of negotiations, we had agreed upon a cost for the wedding reception with a hotel in Palm Springs.
Then at the very last minute the hotel's General Manager overturned the deal and demanded about $5000 more, while also giving us only hours by which we had to agree.
If we failed to give in to his new (and in our view unfair) terms he'd cancel our reservation.
Forced into a corner with a deadline looming, we very reluctantly acquiesced to his demands.
Now, that General Manager thinks he's being a clever business person.
By putting immense last minute pressure on us he has made his hotel an additional $5000.
But he is only looking at the level one consequence.
The level two consequence is that in response to his behaviour, we reduced the number of rooms we booked in the hotel, leading to a major loss of revenue for them.
Furthermore, the level three consequence is that we will tell so many people about his despicable act that he will lose numerous wedding bookings, amounting to likely lost revenue of at least $200,000.
So these deeper level consequences mean that he actually cost his hotel a large amount of money
What level do you think at?
In this breakneck speed business world, it's very tempting to decide an issue with level one thinking.
We look efficient and decisive. We get things done.
But it's only later that level two and three consequences emerge.
Hidden ramifications which could easily hurt our business.
Or even kill it.
As Ray Dalio has shown, the deeper the level you think at, the higher you will rise.
By going down, you'll go up.